In The Wire, Issue 235, September 2003.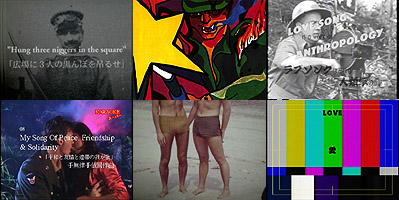 Originally coined to describe the process whereby newcomers to a religious cult are showered with overwhelming displays of affection, the term "love bombing" denotes a state of passive confusion in the face of aggressive emotional manipulation. Seen from this perspective, Thaemlitz' Lovebomb project constitutes an act of cultural deprogramming in which love is ultimately revealed as a socially encoded pathological condition. Comprising audiovisual reinterpretations of texts, sounds and images contained on his Lovebomb CD, this 'video translation' released in Japan on NTSC format represents a clear-eyed, concentrated assault on what William Burroughs once dismissively characterised as "love love love in slop buckets".
Juxtaposing transgender internet porn with the fizzing bomb icon indicating that a 'fatal error' has occurred on an Apple computer, "Welcome (Time Has Left Us)" decries the House nation's blithe apathy towards its own contradictions before offereing a devastating critique of how we use 'love' as a construct to overlook abuse. This formula is twisted round on "Between Empathy And Sympathy Is Time (Apartheid)" in which exhortations to armed revolutionary struggle originally broadcast on Radio Freedom - "voice of the African National Congress and the People's Army" - are modulated through Minnie Ripperton's "Loving You", thereby also recalling how the vocoder was developed by Alan Turing during World War Two as a means of rendering strategic communications between Allied commanders unintelligible to the enemy. A companion piece, "Ai No Bakudan (Between Empathy And Sympathy Is TIme)", runs a constantly repeated shot of cartoon character Tetsuwan Atom, otherwise known in the West as Astro Boy, who barely manages to crawl acros the floor while worn and ancient voices talk of sufferings and holocaust.
Elsewhere domestic violence is equated with cultural imperialism, the violent flux of bodily fluids with expressions of homophobia, and Futurist declamations with an account of the lynching of three black men by a racist mob in Thaemlitz' home town, Springfield, Missouri on Good Friday 1906. Abrupt shifts from actual to figurative act as a stern corrective in which relative values can no longer be so cheerily confused with absolutes. After all, if Burrough's final journal entry is anything to go by, the last word he ever wrote on this earth was 'love'.