terre thaemlitz & comatonse recordings soundbites
注目すべきコメント
DJ Sprinkles "House Music is Controllable Desire You Can Own" ranked #152 on NPR's list of The 200 Greatest Songs by 21st Century Women+.
NPR - "The 200 Greatest Songs by 21st Century Women+.", July 30 2018. Note: It was me who convinced NPR to put a footnote or '*' or '+' or something after 'Women.' ;)
DJ Sprinkles listed in Thump's 20 Greatest Gay DJs of All Time.
Thump (Vice) - Joshua Glazer, "The 20 Greatest Gay DJs of All Time.", October 10 2014.
DJ Sprinkles Just Sold Out London's Dance Tunnel in Three Minutes.
FACT Magazine - "DJ Sprinkles Just Sold Out London's Dance Tunnel in Three Minutes.", June 6 2014.
Ranked #39 in Wikipedia's top transgendered and transsexual musicians trending topics (as of November 2013).
Wikipedia - "Top transgender and transsexual musicians (Trending topics)." To view Terre's current ranking in most viewed articles within Wikipedia's Transgender and transsexual musicians category, click here.
Listed in Mixmaster Morris' Top 100 DJ's 2013.
Mixmaster Morris - "Not The DJ Mag Top 100.", October 2013.
Midtown 120 Blues ranked #19 Highest Rated Album on Discogs (as of November 2013).
Discogs.com - "Highest Rated Albums on Discogs." To view the album's current ranking, click here.
Midtown 120 Blues ranked #24 Die 50 besten elektronischen Alben der letzten 25 Jahre.
Groove - "Die 50 besten elektronischen Alben der letzten 25 Jahre", November/December 2013, Issue 145.
It's very rare that three hours of a single DJ doesn't feel like enough, but Sprinkles was just insanely good at ADE; when we think about this year's event, there's little question that his set will be the one we remember most.
XLR8R - Shawn Reynaldo, "Too Much Fun and Too Much to Do: 11 Takeaways from 2013's Amsterdam Dance Event", October 21, 2013.
DJ Sprinkles ranked #5 in the Top 5 World's Least Douchey DJs.
Crossfade/Miami New Times - Sean Levisman, "World's Lease Douchey DJs: The Top Five", November 25, 2011.
Transgendered performer, legendary House DJ, artistic intellectual and creator of a number of celebrated classic releases, Thaemlitz is easily amongst the most interesting and bravest of contemporary musicians and for that reason an asset to any artistic movement.
Halcyonline - Albert Freeman, "Terre Thaemlitz "Soulnessless" Performed at Issue Project Room", June 14th, 2011, June 2011.
DJ Sprinkles "Midtown 120 Blues" is the best album of 2009 because it makes us wonder if other producers - hell, other people - were as consistently brave as Thaemlitz, what this world indeed would be coming to.
Resident Advisor - Staff Poll, December 16 2009.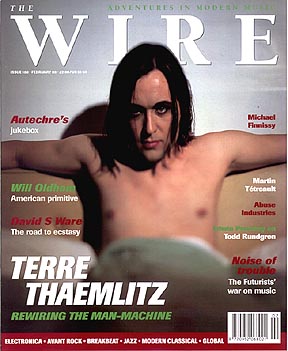 Thaemlitz's [piano] playing works like Nina Simone's, opening up between jazz and modern classical a huge harmonic space in which to articulate complex emotions.
The Wire - Joe Muggs, Issue 300, February 2009.
From the Imaginary Landscapes of John Cage through Walter/Wendy Carlos, Throbbing Gristle, Sylvester, and Patrick Cowley to the contemporary transgendered interventions of Terre Thaemlitz and Matmos' digital reshaping of the world, electronic music has been used as a vehicle to express sexual transgression, as a way of transforming society.
Peter Shapiro, Turn the Beat Around: The Secret History of Disco, NY: Faber and Faber, Inc., 2005, p.111.
Terre Thaemlitz is looking through things as if they were made of glass, seeing all the light reflections and loving them more than the glass object as a whole.
Felix Kubin, December 2005.
The audio and video track "Between Empathy and Sympathy is Time (Apartheid)" by Terre Thaemlitz from the album "Lovebomb" is definitely the first, very sublime Protestsong of the 21st Century.
Nicolas Siepen, B-Books, September 2005.
We were all very impressed by Terre Thaemlitz, who is probably one of the best musicians I ever worked with - including studio-mixing of acoustic instruments.
Reinhold Friedl of Zeitkratzer, interviewed by Rui Eduardo Paes, January 2003.
酸鼻極まるこの凄惨な世界でテーリ・テムリッツは透明の梅毒をもって確実に、そして着実に現行の真実を糾弾し変革の必要性を促している。
Fader by Headz - 「透明の兵器」 Masaharu Kuramochi, September 2002.
...and still Terre's most cherished review after all these years:
Terre Thaemlitz: Tranquilizer (Instinct Ambient) Powerful album from this Dublin native. The controversy generated by her appearance on Saturday Night Live in 1992, where she tore up a picture of the Pope, has clearly effected her songwriting. Her usually lighthearted lyrics have been replaced by a darker, even cynical tone.
In KZSU Radio Add List, Stanford, October 1994.