Avanto: Helsinki Media Art Festival
Helsinki Various Venues

- Ben Borthwick


In The Wire, Issue 240, February 2004.


(excerpt)
Avanto, now in its fourth year, is best know for experimental film but the balance with music shifted onto a more equal footing under director Anton Nikkilä, a long standing figure on the Finnish electronic music scene. Kiasma Art Museum was the main venue but various events ran in conjuction at other nightclubs, galleries and cinemas.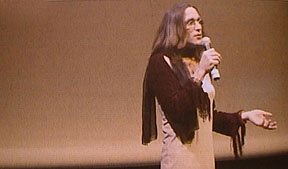 The festival opened with a double bill of Terre Thaemlitz and Ultra-red. A dragged-up Thaemlitz introduced his Lovebomb project by explaining its genesis as his reaction to 11 September. It is a reflection on the power of desire and posits love as a fundamentally destructive and antisocial force while critiquing the music industry's reaction that, whatever the problem, 'love is the answer'. He presented it as a film as a way of resolving the contradiction of performing his studio practice live. What does the performative gesture mean when it goes no further than sitting behind a laptop? What, indeed, does it mean when it is a real live show with instruments? In the Q&A he explained how, having experimented with telling stories over his music in what he described as a "warped, twisted folk concert where half the people loved the stories, the other half just wanted to hear the music", he has settled on his presence being displaced by the film as the least problematic mode of presentation. The visuals are unable to achieve the subtle complexity of the sound but it functions well as real-time sleevenotes by annotating references, subtitling distorted orations and providing layers of contextual information about the narratives.