The Inner Sleeve
Artwork selected this month by Terre Thaemlitz

- Text by Terre Thaemlitz


In The Wire, Issue 239, January 2004.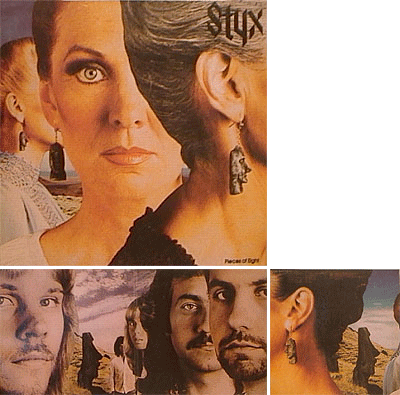 As many have done before in this column, I feel obligated to bemoan the decline of vinyl and reassert the impact record sleeves hold over CDs. I also have to excuse my final selection by acknowledging all of the better choices I coulda-shoulda-woulda made... Kraftwerk's glow-in-the-dark 12-inch of "Neon Lights," Laibach's vinyl edition of "Baptism," Devo's poster monstrosity from "New Traditionalists," the hand-print cover to After Dinner's self-titled debut, or the laser-etched grooves on the B-side of Styx' "Paradise Theater" (fucking cool! find it in a discount-bin!).... Which brings us to my final selection, the gatefold from Styx' "Pieces of Eight."
A few years ago when writing the "Epiphanies" column I asked you to remind me to tell the story of when I was beaten up by a gang of Rockers because I owned a copy of this record before they did, apparently defaming Styx' image because I was such a terminal nerd. Little did those thugs know I bought it by mistake... I really wanted "The Grand Illusion" for that amazing synth solo on "Come Fly Away." Suckers!
Even as a child the Easter Island motif struck me as a bit lame (along with that "Lord of the Rings" song - dumb). But, before you stand my sexual downfalls - older women and girly-boys (Tommy Shaw was such a fox). I can't say whether this jacket inspired my object choices, or if it's appeal was symptomatic of such burgeoning tendencies.... but I still think this cover is sexy, inside and out.