RA Poll: Top 20 albums of 2009
The votes are in: RA reveals the best long-players of the year.

- Resident Advisor Staff Poll


In Resident Advisor (Australia), December 16 2009.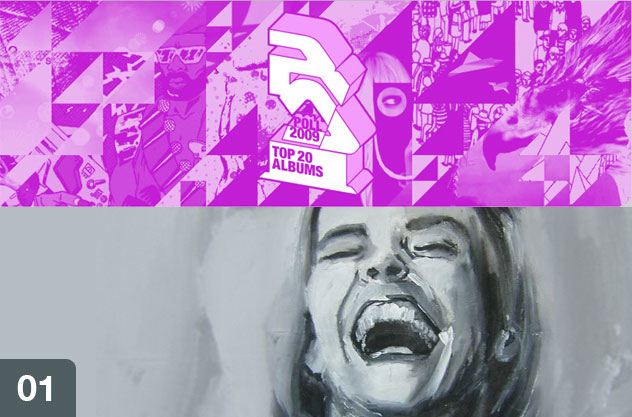 You know what we like most about dance albums? The best ones transcend fashion.
For all this decade's rises and falls, voguish sub-genres and fleeting über-trends, the bandwagon never made it to LP town. And you know why? Because making an album is tough. Incredibly tough. For an artist to convey their very musical fibre on an 80-minute or less canvas, takes a great deal more skill than downloading the latest sample CD and ticking the relevant boxes. Which is exactly why the album format sorts the essential from the inconsequential.
All of our below twenty displayed the necessary flair to elevate themselves above any undercurrent faddism, and, in the case of our #1 album, simply did what many were trying to do this year, but better.
20. Moderat - Moderat [BPitch Control]
19. Peverelist - Jarvik Mindstate [Punch Drunk]
18. Black Jazz Consortium - Structure [Soul People Music]
17. Brock Van Wey - White Clouds Drift On And On [echospace [detroit]]
16. Ben Frost - By the Throat [Bedroom Community]
15. Dinky - Anemik [Wagon Repair]
14. Lawrence - Until Then, Goodbye [Mule Electronic]
13. Black Meteoric Star - Black Meteoric Star [DFA Records]
12. The Field - Yesterday And Today [Kompakt]
11. Fuck Buttons - Tarot Sport [ATP Recordings]
10. 2562 - Unbalance [Tectonic Recordings]
09. Redshape - The Dance Paradox [Delsin]
08. Ben Klock - One [Ostgut Ton]
07. Matias Aguayo - Ay Ay Ay [Kompakt]
06. Animal Collective - Merriweather Post Pavilion [Domino]
05. Shackleton - Three EPs [Perlon]
04. Moritz Von Oswald Trio - Vertical Ascent [Honest Jon's Records]
03. Martyn - Great Lengths [3024]
02. Fever Ray - Fever Ray [Rabid Records]
01. DJ Sprinkles - Midtown 120 Blues [Mule Musiq]
"There must be a hundred records with voiceovers asking 'What is house?' and the answer is always some greeting card bullshit about life, love, happiness."
In 2009, it seemed like there were at least one hundred more. But the above quote, taken from DJ Sprinkles "Midtown 120 Intro" and the album that followed, was a striking moment in which the complexity of life-and music-was laid bare in 80 minutes of house music. Questions became more important than answers, ambiguity more important than certainty, hearing just as important as listening.
Midtown 120 Blues provided plenty of pleasure as well. The sublime, building "Sisters, I Don't Know What This World Is Coming To" and the otherworldly ambience of "Grand Central, Pt.II (72hrs. by Rail from Missouri)" are two of the finest representations of the most important loves-deep house and experimental electroacoustics-ever put to tape by Sprinkles, AKA Terre Thaemlitz. But the album is RA's favourite because it went far beyond making a crowd move, providing music journalists with angles or satisfying the home listening contingent. It's the best album of 2009 because it makes us wonder that if other producers-hell, other people-were as consistently brave as Thaemlitz, what this world indeed would be coming to.