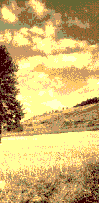 "I really sucked at making house music, really bad. It was too rigid and minimal. So I said 'fuck it' and started fooling around more. I wasn't worried about making music for a particular scene and started letting more of the weird electronic music and the '70s jazz funk stuff I grew up with creep in. Like Kool & The Gang and Timmy Thomas. I wound up with 'Raw Through a Straw.'"
Thaemlitz had found his niche as a composer. He released "Raw Through a Straw," as a 12" on his own label Comatonse. "Raw Through a Straw" incorporated a cool funky jazz drum loop over organ riffs juxtaposed with a piano free jam. The track made him an instant success and, despite not having a distributor, sold out after charting on several prominent DJs' playlists. Terre followed up his success with Tranquilizer (Instinct), but was not content to stick with his atmospheric cool funk grooves. The release featured "Raw Through a Straw" and a couple similar tracks. Also present were tracks such as "Meditation on a Mountain Oyster" which lacks a beat or quantified musical structure.
"Basically (I was) frustrated with how the scene had evolved into this trip-hop, jungle and this that and the other thing. Instead of coming to an event where you hear various eclectic things, now it's kind of like catering to the crowd that always needs a beat so they can bob their heads. It's a different crowd from in the early '90s. Chill rooms have become main rooms that have internalized the dance floor, instead of something that could be totally free form and be what ever it wanted to be on the side of a hardcore rave room. Now ambient events are prominent in their own right, but have lost their free form structure to compensate for at."
Thaemlitz began using less and less standard electronic gear and more pure digital synthesis via his Apple Macintosh computer. Early in 1995 he released Web (Subharmonic), a collaboration with Bill Laswell-gyrating sounds saturated in unearthly mechanical winds and ear-bleeding synthetic noise.
Soil (Instinct Ambient), Thamelitz's most recent solo release, is an easier listen than Web, using minimal synthesizers, a few sublime and murky samples, with a lot of CPU cycles on his Macintosh for surreal effects. Soil is a surrealist landscape of free flowing unstructured audio beauty, full of texture and expression. Each track progresses with the smooth chaos of a dream, leaving you relaxed, but on edge at the same time. His best work to date.