Music Theory
Ambient producer Terre Thaemlitz takes on gay pride

- Ernie Glam


In New York Blade News, March 5, 1999.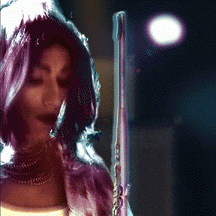 DJ Terre Thaemlitz often perform in drag, which he says didn't sit well with the denizens of New York's macho ambient scene.

Spinning house music in Times Square dive bars is an unlikely launching pad for a career in experimental music, but producer Terre Thaemlitz thinks these boundary-busting venues were teh perfect place to begin his attack on song structures.

On his new CD, Love For Sale: Taking Stock in Our Pride, the 30-year-old computer musician creates lengthy compositions that experimetn with noise, silence, sound effects, and tones. Less songs than aural splatter paintings, Thaemlitz's ambient creations concoct sonic metaphors to challenge assumptions about radical queerness and the mainstreaming of gay culture.

Lacking formal musical training, Thaemlitz takes a more political approach to his work.

"My interest in music and media is as a vehicle for social exchange and communication,&quote; he says, "rather than trying to bear my soul on some instrument."

The Oakland, California, resident's activist approach stems from his college yars at New York's Cooper Union, where he developed interests in criticism and cultural studies. Thsi radicalized Thaemlitz's ideas about music and led him to embrace queer theory.

On Love For Sale - available online at www.comatonse.com - Thaemlitz spells ou;his ideas on experimental music and identity politics in a 3000-word treatise critiquing the mainstreaming of gay culture. Heavy on theoretical jargon, the CD booklet is scarcely light reading.

A sample of the liner notes: "The lesbian and gay mainstream seeks toodistance itself from lifestyle activities which emphasize the interrelationships between queer sex acts and the public sphere because they present a deconstructive threat to dominant ideologies in which the public and private are distinct."

Most of Love For Sale's tracks are equally inaccessible for the average listening, such as "Sloppy 42nds - post-Processed." Clocking in at over 10 minutes, the track ambles through random bleeps and buzzes, giving an over-all impression that the CD is malfunctioning. Actually, the muffled cacophony is the point.

Not all the tracks are so difficult. "Rambles - Down in the Park" resembles the '70s work of Brian Eno in its lulling austerity, or more specifically Kraftwerk's "Franz Schubert" from Trans-Europe Express - not surprising since Thaemlitz recorded an entire album inspired by the German group in '97.

Thaemlitz's initiation into DJing and music production began as a hobby. He started at Sally's, a defunct transvestite bar on 43rd Street, where he christened himself DJ Sprinkles. After frequently losing gigs at other venues for "playing stuff that was too mellow" Thaemlitz quit DJing, dedicated himself to producing ambient music in '93, and released his first recording the following year. Five years later he's racked up an impressive discography, releasing eight solo albums, two full-length collaborations, and appearing on over a dozen compilations.

Despite his music's limited appeal, Thaemlitz garnered ultra-trendy street credibility last year when he was voted Best Ambient/Experimental Artist of 1997 by the readers of URB magazine, America's leading underground music and style bible. He downplays the award, though, citing the publication's intensely fractious readership. "It probably means that three people agreed," he jokes.

Still, it's a coup for someone who performs in drag for a crowd that can be decidedly macho. In fact, testosterone is part of the reason why he left New York for California last year: he didn't feel comfortable in this city's mostly straight abient scenes like the Soundlab and Abstrakt parties.

"I'm more interested in contexually analytical stuff and they were more into being groovy," he says. "I found it an existential waste of time."

A realist, Thaemlitz acknowledges that many people will feel the same way about his shtick.

"This music is not mainstream and doesn't have that pretense," he states unapologetically. Nonethless, he wishes the folks from Sally's who gave him his first break could hear what he's recording now. However, he has no illusions about theri verdicts: "They'd probably be bored."