Family Recipes
Recipes from the Thaemlitz, Tonda and Sames Families documented, recalled or occasionally bastardized by Terre Thaemlitz

- Terre Thaemlitz


2000 (comatonse.com). Mentioned in The New York Times!




This page is primarily intended as a resource for Thaemlitz, Tonda and Sames family members, but all are welcome to give our legendary family recipes a try.... Some recipes attributed to my Ma Geri might actually be from a grandmother or other relative - feel free to correct me. I might separate foods into different categories as more recipes are added (ie., desserts, caseroles, etc.), but for now they are divided by chef. If you are related to the Thaemlitz, Tonda or Sames families and wish to see your recipe listed here, please email it to info@comatonse.com. Grandma Mary Tonda's Recipes

Grandma Susan Thaemlitz' Recipes

Ma Geri Thaemlitz' Recipes

Terre's Recipes


Grandma Mary's Homemade Ravioli



These are time consuming, but unbelievably worth it!

Ravioli Dough Ingredients:
7 cups flour
1 cup water
6 whole eggs
3 egg yolks
3 tablespoons olive oil

Ravioli Filling Ingredients:
1/2 pound ground veal
1/2 pound ground pork
1/2 pound ground beef
6 eggs
1/2 cup bread crumbs
3 to 4 tablespoons grated parmesan cheese
Parsley (minced)

Dough: Mix flour with eggs, oil and water. Knead thoroughly and set aside in bowl, covered with plastic wrap.

Filling: Combine and brown the meats. In a large mixing bowl, combine with other Ingredients: and mix thoroughly.

Stuffing the Ravioli: Roll into a large, thin sheet. Use a knife or fancy pasta cutter to slice into 1.5"-2" squares. Add a teaspoon full of meat to center of square, add top layer of dough and close the edges with the press of a fork (or just pinch it).

Cooking: Boil 10 to 20 minutes as needed. Top with Grandma Mary's spaghetti sauce and freshly grated parmesan cheese..


Grandma Mary's Pie Crust

Terre's note: I don't remember, but I think this is enough for 2 covered pies.

Ingredients:
5 cups flour
2 teaspoons salt
1 teaspoon baking powder
2.5 cups Crisco (vegetable shortening)
1 egg beaten
1 tablespoon vinegar

Mix egg, vinegar and water to fill 1 cup. Combine with dry Ingredients: and knead thoroughly. (For an extra treat after making pies, spread left-over pie crust thin on a baking sheet, sprinkle with cinnamon and sugar, and bake at 350° F until crisp.)


Grandma Mary's "That's Italian" Jewish Ghetto Spaghetti Sauce

I vividly recall the catfighting between Ma and Mary as Ma tried to take measurements while Mary made the sauce without ever measuring Ingredients:.... I was told Mary got this recipe from a non-Italian Jewish neighbor while they lived in Philadelphia's Jewish ghetto. This makes enough for freezing. If you have a Crock-Pot, now's your chance to finally use it!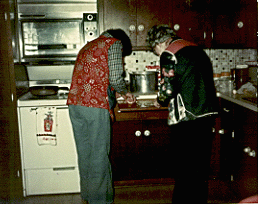 Mothers gonna work it out...
Ma Geri and Grandma Mary cookin' it '70s style.





Ingredients:
3 large cans whole tomatos (Cantadina preferred)
3 small cans tomato paste
1 teaspoon black pepper
2 tablespoons sweet basil
1 teaspoon Italian seasoning
1/2 teaspoon oregano
1 teaspoon garlic powder
1 teaspoon onion powder
1/4 teaspoon red pepper
1/2 teaspoon rosemary
1/2 teaspoon fennel seed

Blend tomatos in blender (or you could just use pureed tomatos to start with). Add seasonings and stir. Cook on medium heat and bring sauce to boil, then cook on low heat for 1.5 to 2 hours. Put in tomato paste in last 30 minutes and stir. Fill each paste can with water and add. Stir well. During last 10 minutes add 1 teaspoon baking soda and stir (this is the Tonda family's secret way to reduce tomato acidity). Serve over spaghetti or other pasta, use in lasagne, etc.


Grandma Susan's Apple Pie Filling



Ingredients:
9 apples (quartered and thinly sliced lengthwise)
3/4 cup sugar
1 or 2 teaspoons cinnamon
Butter
Corn Flakes

See Grandma Mary's Pie Crust. Preheat oven to 450° F. Sprinkle thin layer of Corn Flakes on bottom pie crust to absorb excess apple juice. Layer apple slices in circular pattern. Sprinkle sugar and cinnamon on top of apples. Cover pie with top layer of pie crust, cutting 4 slices near the center to release steam while cooking. Brush top with melted butter, and sprinkle lightly with sugar. Bake 40 to 45 minutes at 425° F until golden brown.


Grandma Susan's Chow Mein

Terre's tip: add fresh vegetables and a splash of Michou (cooking rice wine). Ingredients:
1 pound hamburger
1/2 to 1 onion, chopped (Terre suggests using green onions)
1 stalk celery (not 1 bunch!)
1 can bean sprouts, drained
1 can water chestnuts, drained
3 tablespoons corn starch
3 tablespoons soy sauce
Fried chow mein noodles

Brown hamburger and set aside. Put vegetables in pan with 1/3 to 1/2 cup water. Cover and steam 2-3 minutes. Combine hamburger with vegetables. Mix cornstarch with a small amount of water or soy sauce in a cup to eliminate lumps. Add cornstarch mixture, remaining soy sauce and 1/2 cup water. Cook until sauce thickens (cooks fast). Add additional soy sauce or water to cooking mixture as necessary. Serve over white rice (Sara, you can eat yours on the side). Top with fried chow mein noodles.


Grandma Susan's Dream Bars



For 9"x9" pan (double for 9"x13")

Ingredients:
1/2 cup sugar
3/4 cup peanut butter
4 cups Special K cereal
6 ounces chocolate chips
6 ounces butterscotch chips
1/2 cup light corn syrup
1 tablespoon pure vanilla extract

Combine sugar and syrup in saucepan. Cook on moderate heat, stirring constantly, until mixture boils. Remove from heat. Stir in vanilla and peanut butter. Mix well until creamy and smooth. Add cereal, mixing until evenly coated. Press into 9"x9" pan. Melt chocolate and butterscotch chips together. Spread over cereal mixture and let cool.


Grandma Susan's Hot Dish



For 9"x11" pan

Ingredients:
1 pound hamburger
3/4 cup chopped onions
8 ounces of wide, ruffled egg noodles
1/2 cup ripe or stuffed olives (seedless)
1/2 pound (8 ounces) American cheese, diced or grated
1/2 teaspoon salt
1/8 teaspoon black pepper
1 can cream of mushroom soup thinned with 1/2 cup milk
1/2 cup salted nuts (last 15 minutes on top)
Chow mein noodles (last 15 minutes on top)

Preheat oven to 375° F. Brown onions and meat, drain. Cook egg noodles as directed. Combine drained noodles, mushroom soup thinned with milk, cheese, and all Ingredients: in baking dish, EXCLUDING peanuts and chow mein noodles. Bake 40 minutes at 375°. During last 15 minutes of baking, put chow mein noodles and peanuts on top. Ma Geri puts the nuts and chow mein noodles on the side because they don't freeze well, but all us kids agree you'd better bake 'em!


Grandma Susan's Popcorn Balls



For about 20 balls.

Ingredients:
1 cup honey
1 cup sugar
1 tablespoon vinegar
Lots of popcorn (about 5 cups)

Mix honey, sugar and vinegar in saucepan. Boil until the mixture will harden when dropped into water. (Add a little food coloring if you like.) Pour over popcorn, stirring with a spoon until thoroughly mixed. Form into balls, placing them on wax paper.
Grandma Susan's Secret Dinner Rolls

I might get into serious trouble by Aunt Doris for having this listed for the world to see, but I figure they are so hard to make that those who venture to try deserve what they get (which in John and my case were disasterous rocks). I should also note that this may or may not be the original recipe, as Grandma Susan was very secretive about how to make these, and may have "forgotten" to write down certain Ingredients: or steps. I am working from a photocopy of her typed notes, but I believe an older copy was rumoured to list adding 1/4 teaspoon sugar to the yeast. Yields about 4 dozen.

Ingredients:
1/2 ounce dry yeast (two 1/4 ounce packages)
2 eggs
7 to 8 cups flour
1 cup scalded milk
1 cup water (potato water)
1 cup mashed potatoes
3/4 cup butter or other shortening
1 bablespoon salt (small)
3/4 cup sugar

Dissolve dry yeast in 1/4 cup lukewarm water (or use same amount of fresh yeast). Set aside yeast for later addition. Boil & mash potatoes (saving water), scald milk (bring to verge of boil). Cool to lukewarm. Combine potatoes, potato water, milk, butter, salt and sugar (everything but yeast, eggs and flour), mix well. Add dissolved yeast to mixture. Then add 2 well beaten eggs. Beat well and add 7 or 8 cups flour. Mix and knead to soft dough. Let rise in greased, covered bowl for abou;t one hour. Punch down and let rise again to about double in size, this second rise being done in the final baking pan. For clover-leave rolls use muffin tins. Place three small balls in each cup, dipping two balls in melted button on the side so they don't stick together. Once they have risen to double in size, back at 375° F until slightly brown (about 12 to 15 minutes). While hot and before removing from pans, brush lightly with melted butter. Grandma Susan's additional notes: This recipe can be used for butterscotch rolls. Rolls can be stored in airtight containers and frozen.


Ma Geri's Custard



For 1.5 quart pan (double for 9"x11")

Ingredients:
2 whole eggs or 4 egg yolks (Terre suggests yolks only)
1/3 cup sugar
1/4 teaspoon salt
2 cups milk scalded (near boiling)
1/2 teaspoon pure vanilla extract
A dash of nutmeg

Pre-heat oven to 350° F. Lightly beat eggs, sugar and salt to mix. Stir in scalded milk. Add vanilla. Sprinkle nutmeg on top. Bake in double-boil pan (place main pan in a larger tray with at least 1 inch hot water on all sides) for 45 minutes at 350° or until knife inserted 1 inch from edge draws clean.
Ma Geri's Macaroni & Cheese



For 9"x9" pan.

Ingredients:
2 cups elbow macaroni (Creamette brand preferred)
1/2 cup butter (lightly salted)
2 tablespoons flour
1.5 cups whole milk
1 teaspoon salt
1/4 teaspoon black pepper
1 cup grated American cheese

Pre-heat oven to 350° F. Cook, drain and run noodles under cold water. Melt butter over low heat and stir in flour until smooth. Slowly add milk, constantly stirring. Add salt and pepper, cook until thickened (may take a few minutes). Mix with noodles in back pan. Sprinkle grated cheese on top (do not blend in). Bake 20-25 minutes at 350°.
Ma Geri's Pepper Steak



Ingredients:
1.5 pounds sirloin steak (1.5" thick)
2 medium onions
2 cups beef broth
1 clove garlic (minced)
2 green bell peppers (seeded and sliced thin)
2 tablespoons corn starch
1/4 cup water
3 tablespoons soy sauce

Brown and drain meat. Brown onions. Combine meat and onions with broth, soy sauce and garlic. Cover and simmer 10 minutes. Add green peppers. Cover and simmer 5 minutes. Blend cornstarch and water, stirring gradually into meat mixture. Cook stirring constantly until mixture thickens and boils. Boil and stir 1 minute. Serve with rice.
Ma Geri's Popovers



Ingredients:
1 cup flour
1/4 teaspoon salt
1 tablespoon sugar
1 tablespoon oil
1 cup milk
2 large eggs (or 3 small ones) slightly beaten

Preheat oven to 400° F. Lightly beat eggs and add other Ingredients:. Beat at medium speed. Pour 3/4 full in heavily greased cup cake pan, or 6 deep custard cups. Bake 40-45 minutes at 400° F until golden and puffy. Remove immediately from pan after done baking.
Ma Geri's Salmon Patties



Ingredients:
1 large can salmon
1 onion (minced)
1 large egg
1/2 cup breadcrumbs (more or less)
1 cup flour (more or less)

Mix salmon, onion and egg by hand in mixing bowl. Gradually mix in bread crumbs (don't make them too dry or they'll fall apart when you cook them). Press salmon into patties and fry in vegatable oil.
Terre's Cashew Chicken (Springfield Style)



Mmmmmmmmmmmm-mm!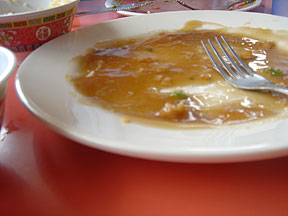 Goes so fast you can't take a photo of it...





Ingredients:
1/2 cup milk
2 tablespoons water
2 eggs, well beaten
Salt
4 large chicken breast halves, cut into bite-size pieces
2 tablespoons cornstarch
1 1/2 cups chicken broth
2 tablespoons oyster sauce
1 teaspoon sugar
Pepper to taste
1 cup flour
Vegetable oil for frying
1 cup cashew nuts
1/2 cup chopped green onions
Soy sauce
Hot fried rice

Marinate chicken in milk, water, eggs and salt for 20 minutes. In a saucepan, dissolve cornstarch in a small amount of broth; add remaining broth gradually to make a paste. Blend in oyster sauce, sugar and pepper. Stir over medium-high heat until sauce boils and begins to thicken. Set aside. Dredge chicken in flour. Fry in oil in a heavy skillet until crips and golden. To prevent chicken pieces from sticking together, drop into hot oil one piece at a time. Drain on paper towels. Arrange chicken on a serving platter; sprinkle with cashews and green onions. Reheat sauce and pour over chicken. Serve immediately with soy sauce and rice. (For buffet-style serving, keep sauce, cashews and green onions on the side for people to add themselves). Serves 4.

For the fried rice, keep it a simple version with eggs, carrots and green onions only.


Terre's Crepe Batter



Ingredients:
1 pint whole milk
2 cups flour
1/2 teaspoon baking powder
2 whole eggs
2 egg whites
Pinch of salt
Drop of vanilla

Mix it all up and fry it like a really thin pancake. Fill with fresh whipped cream (see Terre's Homemade Whipped Cream) and berries, roll and eat.


Terre's Cuban-American Flan



For a 9" circular cake pan. Special thanks to Alex Pereira, whose original recipe served as the basis for my own.

Ingredients:
6 eggs (4 whole and 2 yolks)
2 8-ounce cans of evaporated milk
2 cans condensed milk
2 tablespoons of pure vanilla extract
pinch of salt
1/2 cup sugar for caramel

Preheat oven to 350° F. Evenly cover the bottom of the baking pan with sugar. Heat over open flame until sugar starts to carmelize, continually agitating pan to ensure caramel does not burn and turn black. (I have a rather ugly but reliable way of doing this - I use a pair of vice-grip pliers to hold the side of the baking pan, using this as a handle to continually turn the pan over the flame.) Swirl caramel to cover sides and bottom of pan, set aside to cool. Mix eggs and rest of Ingredients: in blender until smooth. (To make Alex's version, blend in 1/3 bar of cream cheese at room temperature - this gives it somewhat of a cheescake taste. You could also add some finely grated lemon peel or orange peel. I like it plain.) Pour into caramel-coated baking pan (the caramel will crackle loudly as you pour it in). Bake in double-boil pan (place main pan in a larger tray with at least 1 inch hot water on all sides) for 90 minutes at 350° or until knife inserted in center draws clean. Refrigerate until thoroughly cooled. Run knife around outer edge of flan, and turn it over onto a large plate (be sure there is enough room for the now liquid caramel to pour all over!).


Terre's Garlic Bread



Ingredients:
1 fresh loaf Italian bread
4-6 cloves garlic (minced)
1 stick lightly salted butter at room temperature
1-1.5 tablespoons fresh Italian parsley (minced) Salt to taste

Preheat oven to 350° F. Combine minced garlic, parsley and butter in a bowl, mashing together with a fork. Slice bread on side down length of loaf. Use fork to spread butter mixture on top and bottom of loaf. Sprinkle with a dash of salt if desired. Wrap loaf in aluminum foil. Bake at 350° for 10-15 minutes until thoroughly heated through.


Terre's Highly Controvertial Attempt to Improve Upon Grandma Mary's Spaghetti Sauce

This recipe has been categorically rejected by family members for departing from Grandma Mary's recipe (especially for my suggestion of using fresh vegetables), but it's my standard spaghetti sauce. Adjust seasonings to taste - one thing I copied from Mary is never measuring what I add, so all measurements are approximate. Ingredients:
1 pound (or slightly more) Italian sweet sausage
1 large can whole tomatos
3 fresh tomatos
1 small cans tomato paste
4 cloves garlic (minced)
1 large onion (minced)
1/4 cup fresh parsley (minced) 1/2 teaspoon oregano
1/2 teaspoon dried red pepper
1 teaspoon black pepper
1 tablespoons sweet basil
1/2 teaspoon Italian seasoning
1/2 teaspoon rosemary
1/2 teaspoon fennel seed
Salt and other seasonings desired to taste

Start canned tomatos simmering in pot. Slice fresh tomatos (peeled or unpeeled), keeping juice. Combine with simmering canned tomatos in pot. In a frying pan, briefly sautee garlic and add to tomatos, then brown onions and add. Cut sweet sausage into small pieces, fry and add (the longer they are cooking with the tomatos, the better). Add all other seasoning except parsley and simmer on low heat for 1 hour. Taste and adjust seasonings as necessary. Add parsley and tomato paste, then simmer for another 30 minutes or more. During last 10 minutes add 1 teaspoon baking soda and stir (this is the Tonda family's secret way to reduce tomato acidity). Serve over spaghetti.


Terre's Homemade Salsa



Ingredients:
2 medium tomatos
1 small onion (minced)
2 garlic cloves (minced)
1/2 lime juiced (about 1/4 cup)
1 tablespoon or more celantro (minced)
1 or 2 jalepeño pepper (minced, at least 2 for spicy)
pinch of salt
Optional - add green onions

Place the tomatos in boiling water to loosen the skin for peeling. Place peeled tomatos in a container, mash with knife and spoon being sure to keep any juice that comes from the tomatos. Mix all other Ingredients: with tomatos. Refrigerate (let sit overnight if possible, to mellow the taste of the tomatos). Serve with tortilla chips or use on burritos, etc.


Terre's Homemade Whipped Cream



For some reason people think Whipped Cream is difficult to make. IT'S NOT! Here's a recipe for all of you idiots and lazy bones. Try it and impress your friends!

Ingredients:
1/2 pint whipping cream
4-6 tablespoons fine confectioner's sugar

Whip the whipping cream with a mixer for best effect, or use a hand egg-beater. Keep whipping until thick, and cream peaks when you withdraw the mixer. Sprinkle in confectioner's sugar to taste (don't be afraid of making it too sweet - you'll probably have to put in more sugar than you think, and the result will not be too sweet).


Terre's Kimchee Bap (Fried Rice)



Recipe can be easily scaled - the number of eggs should always be one more than the number of scoops of rice used. The cooking order is important.

Ingredients:
1/2 to 3/4 cup kimchee (diced)
3-4 green onions (minced)
4 eggs
1-2 tablespoons Japanese mayonaise (Kewpie brand preferred. Japanese mayo does not have vinegar like Western mayo)
3 scoops Japanese or Korean white rice (if you don't have an asian rice cooker, 1 scoop is about 5/6 cup, so 1.5 cups rice here)
Salt and pepper to taste

Allow rice to cook. Mix eggs and mayonaise in bowl (this is the secret to keeping them fluffy), and cook until still slightly moist. Set aside in bowl. Over a fairly high flame, sautee green onions 30 seconds and then add kimchee. Sautee approximately 2 minutes. Add cooked rice and mix. Add salt and pepper (fresh ground white pepper and black pepper preferred). Add eggs, mixing well. Cook a minute longer, check seasoning, and serve.
Terre's Linguine with White Wine Clam Sauce



Serves 2-3

Ingredients:
1 can clams in water
1 small jar clam juice
2-3 cloves garlic (minced)
Fresh Italian parsley
White cooking wine
Salt and pepper to taste
1 pound linguine

Sautee minced garlic in olive oil. Add clams with water in can and half jar of clam juice. Add white wine to taste (1/2 cup usually does it). Add salt and pepper to taste (fresh ground white pepper is best). Sautee 2-4 minutes on low heat - don't boil it down too much. Add parsley, and remaining clam juice if desired. Adjust seasoning if necessary, and simmer another minute or two. Serve over linguine with fresh garlic bread.


Terre's Minnesota Wild Rice

Okay, I stole this one from my old friend Gary VanZinderan's mom.

Ingredients:
1 pound wild rice
1 pound bacon
2 to 3 onions (diced)
2 cups sliced white mushrooms (or two cans)
Salt & pepper to taste

Boil wild rice for about an hour until tender. Dice and fry bacon. Brown onions and sautee mushrooms in olive oil. Combine with cooked rice, mix well, salt and pepper to taste.
Terre's Strange Take on Spicy Thai Peanut Sauce

The recipe reads a little weird, but everyone who tastes it loves it. I usually make it with chicken and bok choi or another Chinese green, but it can also be made vegatarian with zuchinni, spinach, yellow squash, carrots, or whatever you like. You might have to make it twice before you figure out the correct balance of seasonings. Do not attempt to make this recipe with Skippy or other salted/sweetened peanut butter! Ingredients:
8 to 10 ounces (1/2 medium jar) peanut butter - UNSWEETENED & UNSALTED ONLY!
12 to 14 ounce can coconut juice
2-4 cloves garlic (minced)
3-4 green onions (minced)
2 dried Thai red chilis
1/4 cup soy sauce
3-5 tablespoons Thai hot chili sauce (Sriracha preferred)
1-2 tablespoons Chinese red chili sauce (Fu Chi preferred)
1 tablespoon Chinese BBQ sauce (Bull Head preferred)
Splash of fish sauce (optional)
Chicken, vegetables, or whatever you like to cook with it

Sautee garlic and green onions in oil for 30 seconds. Add chicken or other meat (or longest cooking vegetable if no meat), sautee until lightly cooked through. Add coconut milk and dried Thai red chilis, simmer on medium-low heat 2-5 minutes. Add peanut butter and mix well, continuing to simmer. Add soy sauce and other seasonings, remaining vegetables. Allow to simmer 2 minutes, stirring constantly (sauce should be creamy, definitely not thick and definitely not watery - add water if needed, but wait for vegatables to release their moisture first). Check taste - at this point just make sure you don't taste too much of anything, since it takes time for the sauces to work their magic. Allow to simmer, stirring regularly, for 5 minutes. Check taste again, adding sauces as necessary. You may find yourself adding unusually large amounts of one thing or another - that's okay. Just be sure to allow a minute or two for the spices to mix and settle before decided what else is needed. When you think it's done, serve over rice.


Terre's Super Banana Malted and Malteds Generally



The art of a fine malted is a wonderous thing which comes through reason and order. Obey the rules of introduction and you shall be rewarded.

Ingredients:
1 yellow banana
1 egg
Malt powder (Carnation preferred)
Whole milk
Vanilla ice cream

Whip whole egg in blender's highest setting, approximately 30 to 45 seconds. With blender on medium setting, add approximately 1/4 cup of milk, then blend on high speed again for 30 seconds. With blender on medium setting, add sliced banana and blend on high speed again until smooth. Slowly add more milk until about one full cup of milk has been added. (This initial process of blending is what gives my delicous malteds an unusual lightness of taste along with a thick consistency.) With blender on medium speed, add malt powder to taste (be generous!). Add vanilla ice cream. Play with ice cream and milk until you have a desired amount and thickness. Add more malt powder if necessary. You can easily adapt this recipe to other flavors by adding chocolate syrup, fresh strawberries, or other goodies. It is generally better to add chocolate syrup to vanilla ice cream than to use flavored ice cream by itself, although you may also try a double-chocolate malted made with syrup and chocolate ice cream.


Terre's Super Eggnog



I don't drink alcohol, but add liquor if you wanna barf.

Ingredients:
1/2 teaspoon pure vanilla extract
2 eggs
2 cups whole milk
Honey to taste (3 to 4 tablespoons?)
A dash of nutmeg

Mix it all up and drink it.


Terre's Taiwanese Ricecake



Here's your chance to use those dried brown mushrooms you always see in Asian markets. Japanese ricecake is far too sticky for this recipe - it's a totally different type of ricecake. Don't even try to use it.

Ingredients:
1 pound of Taiwanese (Chinese or Korean) ricecake discs
2 to 3 porkchops, thinly sliced
4 to 8 dried mushrooms (about 1/3 to 1/2 cup sliced)
4 green onions (minced)
2 to 4 large leaves Chinese cabbage (sliced into strips)
Chinese red chili sauce (Fu Chi preferred)
Chinese BBQ sauce (optional, Bull Head preferred)
Salt to taste

Seafood Variation:
Replace pork with assorted fishcakes and/or fish balls
1 large carrot (diced, for seafood variation only)

Set ricecake discs in bowl of warm water (hot water if frozen), soaking as you prepare other things. Rinse dried mushrooms and place in a bowl of hot water for about 10 minutes. While mushrooms are soaking, slice pork into thin strips and brown (for seafood variation, slice fishcakes into thin pieces). When mushrooms are soft, slice into thin strips, keeping mushroom water. Add green onions and mushrooms to pork and sautee for a minute or two. Add rice cake discs and about 1/2 cup mushroom water. Add salt and seasonings to taste. Sautee, and add Chinese cabbage only in last 2 or 3 minutes of cooking. Pork variation should be moist, but no real sauce. Seafood variation should have more water added, creating a sauce but not soupy.