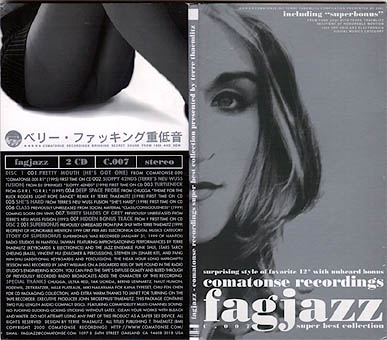 Why is Fagjazz Meaning?

- Terre Thaemlitz


"Engrish" liner notes from the album Fagjazz: Super Best Collection (US: Comatonse Recordings, 2000) C.007. Click here to view original release artwork.


SURPRISING STYLE OF FAVORITE 12" WITH UNHEARD BONUS
TERRE THAEMLITZ FAGJAZZ SUPER BEST COLLECTION
DOUBLE CD SET
DISC 1 A SELECTION OF TRACKS PREVIOUSLY ONLY RELEASED ON VINYL, PLUS UNRELEASED MATERIAL AND A HIDDEN TRACK.
DISC 2 SUPERBONUS AN HOUR OF NEW MUSIC IN COLLABORATION WITH FUNK SHUI JAZZ ENSEMBLE.
DISC 1 001.PRETTY MOUTH (HE'S GOT ONE) FROM COMATONSE.000 "COMATONSE.000.R1" (1995) FIRST TIME ON CD 002.SLOPPY 42NDS (TERRE'S NEU WUSS FUSION) FROM DJ SPRINKLES "SLOPPY 42NDS" (1998) FIRST TIME ON CD 003.TURTLENECK FROM G.R.R.L. "G.R.R.L." (1997) 004.DEEP SPACE PROBE FROM CHUGGA "THEME FOR THE BUCK ROGERS LIGHT ROPE DANCE" REMIX BY TERRE THAEMLITZ (1998) FIRST TIME ON CD 005.SHE'S HARD FROM TERRE'S NEU WUSS FUSION "SHE'S HARD" (1998) FIRST TIME ON CD 006.CLASS PREVIOUSLY UNRELEASED FROM SOCIAL MATERIAL "CLASS/CONSCIOUSNESS" (1999) COMING SOON ON VINYL 007.THIRTY SHADES OF GREY PREVIOUSLY UNRELEASED FROM TERRE'S NEU WUSS FUSION (1993) 00?.HIDDEN BONUS TRACK FROM ? FIRST TIME ON CD
DISC 2 001.SUPERBONUS PREVIOUSLY UNRELEASED FROM FUNK SHUI WITH TERRE THAEMLITZ (1999) RECIPIENT OF HONORABLE MENTION 1999 ORF PRIX ARS ELECTRONICA DIGITAL MUSICS CATEGORY
STORY OF SUPERBONUS SUPERBONUS WAS RECORDED JANUARY 21, 1999 AT NANTOU RADIO STUDIOS IN NANTOU, TAIWAN. FEATURING IMPROVISATIONAL PERFORMANCES BY TERRE THAEMLITZ (KEYBOARDS & ELECTRONICS) AND THE JAZZ ENSEMBLE FUNK SHUI, STARS TARCY CHEUNG (BASS), VINCENT HUI (DULCIMER & PERCUSSION), STEPHEN LIN (SNARE KIT), AND FANG MIN-SHU (ADDITIONAL KEYBOARDS AND PERCUSSION). THE NEAR HOUR-LONG IMPROMPTU SESSION WAS RECORDED BY JANET WILLIAMS ON A DISCARDED REEL OF TAPE FOUND IN THE RADIO STUDIOユS ENGINEERING BOOTH. YOU CAN FIND THE TAPEユS DIFFUSE QUALITY AND BLEED-THROUGH OF PREVIOUSLY RECORDED RADIO BROADCASTS ADDS THE CHARACTER OF THIS RECORDING.
SPECIAL THANKS TAK UCHIDA, CHUGGA, ULTRA-RED, BERND LENNARTZ, MILLE PLATEAUX, NAUT HUMON, PODEWIL, ZEITKRATZER, MIKI NAKAYAMA FOR KANA TYPESET, CHIU-FEN CHEN FOR CD PACKAGING COLLECTION, AND EXTRA WARM THANKS TO JANET FOR TURNING ON THE TAPE RECORDER. EXECUTIVE PRODUCER JOHN 'BROSEPHUS' THAEMLITZ. THIS PACKAGE CONTAINS TWO FULL-LENGTH AUDIO COMPACT DISCS. FEATURING COMAFIDELITY MULTI-CHANNEL SOUND. NO FUCKING-SUCKING-LICKING-STICKING WITHOUT LATEX. CLEAN YOUR WORKS WITH BLEACH AND WATER. DO NOT ATTEMPT USING ANY PART OF THIS PRODUCT AS A SAFER SEX DEVICE. ALL RIGHTS RESERVED. DESIGN BY TERRE THAEMLITZ. ALL TITLES PUBLISHING T. THAEMLITZ (BMI)
COPYRIGHT 2000 COMATONSE RECORDINGS HTTP://WWW.COMATONSE.COM/
EMAIL: INFO@COMATONSE.COM
WHY IS FAGJAZZ MEANING?
WHY IS LANGUAGE OF FAGJAZZ MEANING? LANGUAGE OF FAGJAZZ IS APPROPRIATED FROM ENGLISH ON ASIAN MUSIC PACKAGING (ESPECIFICALLY JAPANESE AND TAIWANESE), IN WHICH ENGLISH MEANS BUYING REACTIONS IN CONSUMERS AT THE EXPENSE OF LINGUISTIC CORRECTNESS. THIS ENGLISH MAKES A FASHIONABLE WESTERN LOOK FOR ASIAN MARKETS, AND ALSO A ACCIDENTAL FASHION ASIAN LOOK FOR OUTSIDE ASIA. COMATONSE RECORDINGS EXPRESS QUEER SOLIDARITY WITH THE DESIRE FOR APPROPRIATING HISTORICALLY OPPRESSIVE TERMINOLOGY TO CONSTRUCT NEW REFERENCE FRAME. ALSO, COMATONSE RECORDINGS HYBRID LANGUAGE IS AUDIENCE RECOGNITION FOR OUR ONLY PAST SECURED DISTRIBUTION IN JAPAN. BUT AS MARKETING STYLE BASED ON MISCOMMUNICATIONS, COMATONSE RECORDINGS SEES IT PARALELL BETWEEN THIS LANGUAGE IN ASIAN MUSIC PACKAGING AND GLOBAL MUSIC MARKETPLACE'S GENERAL DISREGARD FOR REPRESENTING CONTEXTS OF PRODUCTION IN FAVOR OF HOLLOW IMAGERY. THIS INCLUDES AMERICAN AND EUROPEAN.
LOOK AT SUPERBONUS SUPERBONUS IS SIMULACRUM OF IMPROVISATIONAL JAZZ PERFORMANCE COMPOSED AND RECORDED OVER A 4 WEEK PERIOD ALONE BY TERRE THAEMLITZ AT MEOW, OAKLAND. THE FICTIONAL STORY OF SUPERBONUS FROM AN JAM SESSION IS LOOKING AT FUNCTION OF SUPERBONUS AS A SIMULACRUM. IT MEANS THE USE OF FICTION TO ENGAGE IDEOLOGICAL ASSUMPTIONS ABOUT THE VALUE OF INDIVIDUALIST GESTURE WHICH ARE INTEGRAL TO NAVIGATING THE AUDIO MARKETPLACE, AND TO MAKE THE PSYCHOLOGICAL PERFORMANCE OF THE LISTENERユS ANTICIPATIONS PRIOR TO THE ACTUAL ACT OF LISTENING. COMPOSITIONALLY, SUPERBONUS WAS PROGRAMMED TO REFLECT THE STYLES LIKING SUCH CONTEMPORARY JAZZ PERFORMERS AS THE NECKS, AND SOLO PIANO WORKS OF EVAN LURIE. HOWEVER, WHEREAS THESE ARTISTSユ WORKS ARE RESPONSE TO AND/OR DEVIATION FROM YEARS OF TRAINING IN FORMALITY COMPOSITION STRATEGIES, SIMULACRA IS THE DIGITAL COMPOSER A THIRD OPTION OF FOREGOING SUCH GESTURAL PERFORMATIVITY IN FAVOR OF DIRECTLY ADDRESSING THE MUSIC CONSUMERユS PERFORMANCE OF DESIRE IN THE JAZZ AUDIO MARKETPLACE. SUPERBONUS IS NOT ATTEMPTING A REPLACE OF LIVE PERFORMANCE AND TRADITIONAL MUSICOLOGY (BOTH OF WHICH ARE HERE CONSIDERED LIMITED IN LOOKING OF THEIR RELEGATION TO UNENGAGING LEVELS OF REIFICATION WITHIN THE CURRENT MARKETPLACE), BUT PRESENTS AN ATTEMPT TO COMPOSE IN A MANNER WHICH CONSCIOUSLY ENGAGES THE DIGITAL DISTRIBUTION OF MUSIC IN A MARKETPLACE ROOTED IN IMAGE MANAGEMENT. IT ALSO SERVES TO INCORPORATE ADDITIONAL BYPRODUCTS OF DIGITAL PRODUCTION AND REPLICATION IN A COMPOSITION ITSELF, SUCH AS THE INCLUSION OF LINE INTERFERENCE FROMRADIO SIGNALS PRESENT IN THAEMLITZユ STUDIO AT THE TIME OF PRODUCTION.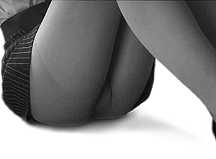 MESSAGE FROM TERRE THAEMLITZ SINCE 1993, COMATONSE RECORDINGS HAS BEEN HOME TO A DIVERSE RANGE OF RELEASES AND PRODUCERS, INCLUDING ERIK DAHL'S DIRECT DIGITAL SYNTHESIS, ULTRA-RED'S AUDIO ACTIVISM, AND CHUGGA'S DISCO MINIMALISM. IN ADDITION TO THESE RELEASES, AND IN CONTRAST TO MY ELECTROACOUSTIC WORK FOR LABELS SUCH AS MILLE PLATEAUX, MY PERSONAL RELEASES ON COMATONSE RECORDINGS HAVE REMAINED LOOSELY TIED TO MY DJ ROOTS IN 'LOISAIDA' DEEP HOUSE, WITH AN EMPHASIS ON FREE-FORM JAZZ IMPROVISATION. FAGJAZZ COMPILES THIS TREND IN MY OWN WORKS PRODUCED UNDER VARIOUS ALIASES OR AS A REMIXER. AS WITH MY 'RUBATO' PIANO SERIES, THE NOTION OF IMPROVISATION IS APPROACHED CRITICALLY, USING DIGITAL COMPOSITION TECHNIQUES TO PRODUCE RECORDINGS TECHNICALLY DEVOID OF THE SPIRITED 'LIVE' PERFORMANCES THEY IMPLY. THIS IS DONE TO DIFFUSE THE MASTURBATORY PRETENSES OF IMPROVISATIONAL ARTISTRY BY ASSOCIATING THE SOUND OF IMPROVISATION WITH TECHNICAL PROCESSES RATHER THAN INDIVIDUALIST GESTURE. FAGJAZZ IS NOT ABOUT REPRESENTING AN INDIVIDUAL'S IDENTITY, BUT THE POLITICS OF IDENTITY FORMATION ミ SOMETHING WHICH INFORMS MY USE OF VARIOUS ALIASES ON A PERSONAL LEVEL, AS WELL AS THE OVERALL ECLECTICISM OF THE COMATONSE RECORDINGS CATALOG. UNFORTUNATELY, DISTRIBUTORS LARGELY CONSIDER THIS ECLECTICISM TO BE 'ANTI-CATEGORICAL' AND INCONSISTENT ミ THEREFORE ANTI-MARKETABLE. WITH FAGJAZZ, COMATONSE RECORDINGS CONTINUES TO PLAY WITH AND ANNUNCIATE THESE MARKETPLACE PROCESSES THROUGH WHICH WE ARE FORCED TO OPERATE. FOR EXAMPLE, THE WAY IN WHICH THE OUTER PACKAGING IMPLIES FAGJAZZ IS A COMPILATION OF THIRD-PARTY MUSICIANS, RATHER THAN ONLY CONTAINING MY OWN PRODUCTIONS, IS IN RESPONSE TO DISTRIBUTOR CONCERNS ABOUT THE WAY IN WHICH COMATONSE RECORDINGS RELEASES CONFUSE EXISTING ECLECTROACOUSTIQUE BRANDING AROUND THE NAME TERRE THAEMLITZ. AS USUAL, MY STRATEGY IS NOT TO SUGGEST AN ABILITY TO ESCAPE UNDESIRABLE SOCIAL PROCESSES, BUT TO CATCH OURSELVES IN THE ACT AS PRODUCERS, DISTRIBUTORS, AND CONSUMERS. IT IS MY HOPE THAT BY OPENLY ADDRESSING THE SOCIAL DYNAMICS EMPLOYED BY THE MARKETPLACE THAT COMATONSE RECORDINGS RELEASES WILL CONTINUE TO INFORM AN AUDIO DIALOGUE ON ANTI-ESSENTIALIST IDENTITY POLITICS AND QUEER DISPLACEMENT - PARTICULARLY GIVEN JAZZ MUSICユS MATERIAL AND IDEOLOGICAL ASSOCIATIONS WITH IDENTITY ISSUES SUCH AS RACE, CLASS, ETHNICITY AND SEXUALITY, RANGING FROM GRASS-ROOTS LEFTISM TO BOURGEOIS SMOKING LOUNGES AND CABARETS - A DOUBLE ENTENDRE IMPLIED BY THE TERM FAGJAZZ ('FAGGOT'-JAZZ VS. 'SMOKING LOUNGE'-JAZZ). PREVIOUSLY RELEASED TITLES INCLUDED ON FAGJAZZ - WITH THE EXCEPTION OF "TURTLENECK" BY G.R.R.L. - ALL APPEAR HERE FOR THE FIRST TIME IN A DIGITAL FORMAT. I HOPE YOU ENJOY THIS CD RELEASE WHICH HAS BEEN SO LONG IN THE MAKING. -TERRE