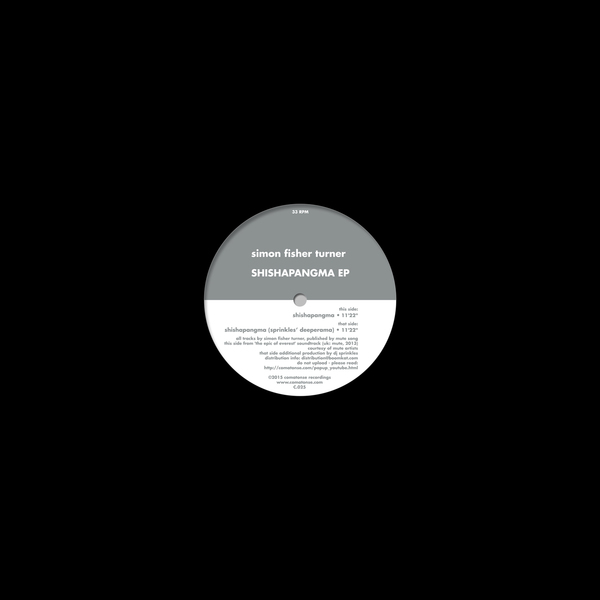 simon fisher turner shishapangma ep
シシャパングマEP (2015)





Simon Fisher Turner: Shishapangma EP | 12" Vinyl EP | November 12, 2015 | C.025 | Boomkat Distribution

For the past year or so, DJ Sprinkles' sets have been featuring a private edit of Simon Fisher Turner's "Shishapangma," reworked from the soundtrack to The Epic of Everest. With encouragement from friends - including dear SFT, of course - we are thrilled to come out with this release featuring Simon's original version on the A-side, and Sprinkles' Deeperama mix on the B-side. Available here at comatonse.com, and Boomkat. Listen to audio excerpts online at Boomkat. Vinyl only!
Shishapangma 11:22
Shishapangma (Sprinkles' Deeperama) 11:22

Boomkat:



Immense 12 minute DJ Sprinkles reworking of Simon Fisher Turner's Shishapangma, with the original included.

You really couldn't predict this one: Terre Thaemlitz's Comatonse present a cut from english composer/producer/actor Simon Fisher Turner's soundtrack to The Epic of Everest, backed with DJ Sprinkles' gorgeous, blue Deeperama mix.

Fisher Turner's windswept, quietly pulsating Shishapangma is one of the latest iterations of a long and colourful oeuvre which has seen him involved with an early incarnation of The The and work extensively on scores for Derek Jarman, as well as involvement with the Portsmouth Sinfonia Orchestra, not to mention a career in acting that made him a teenage star in the 70's.

As with his best solo work for Mute, Shishapangma is marked by a sombre yet majestic appeal that works with or without the accompanying footage from The Epic of Everest, a film made in 1924 by Captain John Noel which Fisher Turner scored last year.

In key with the original composition, Sprinkles' gently sub-fuelled Deeperama mix teases the original's horns to sound something like Peter Zummo doing eleven minutes of deepest house, with one of those signature Sprinkles basslines that seems to ebb so deep it seems to defy acoustic limits. As with everything Thaemlitz touches - it's just insanely good.

Take a listen, you'll know what we mean. Massive recommendation!

All tracks by Simon Fisher Turner, published by Mute Song
Courtesy of Mute Artists
Additional production on B-side by DJ Sprinkles
Design by Terre Thaemlitz