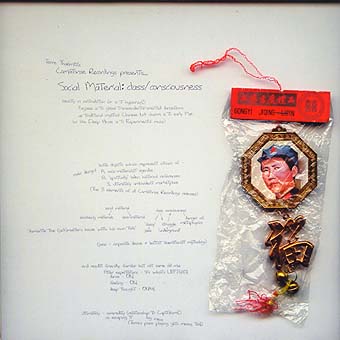 social material class/consciousness
クラス/コンシャズネス(階級意識) (2001)
DJ Sprinkles: Bassline.89 | 12" Vinyl EP | Released 2001 | C.009
Class
Consciousness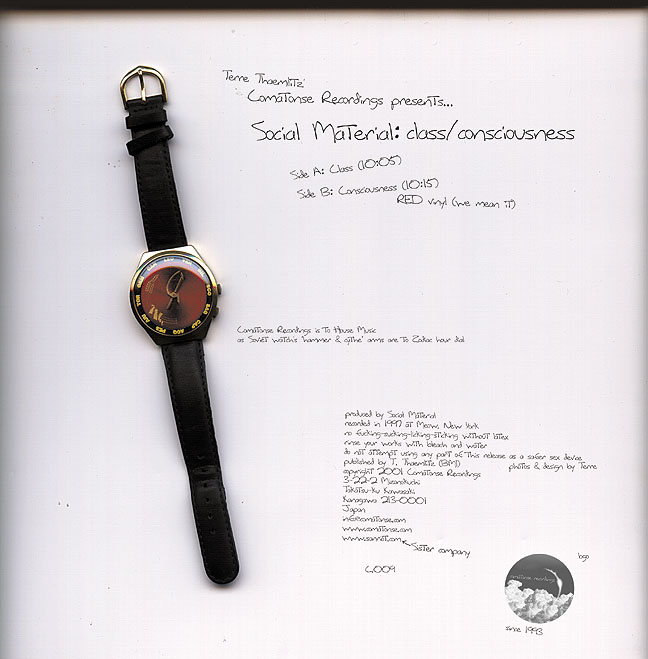 Beauty in contradiction (or is it hypocrisy?)
Comatonse Recordings is to House Music
as Soviet watch's "hammer & cythe" arms are to zodiac hour dial
Fagjazz is to global transcendental-oriented dancefloors
as traditional mystical Chinese luck charm is to early Mao
(or like Deep House is to Experimental music)

cover design:

locate objects which represent collison of -
A. socio-materialist agendas
B. 'spiritually' daden historical references
3. ultimately ambivalent marketplace
(the 3 elements of all Comatonse Recordings releases)

socializing materials ← social material → socio-material

jazz ← "classy" ← class consciousness → struggle → underground → danger of metaphysics

jazz ← "classy" ← class → struggle → underground
underground ← struggle → consciousness → danger of metaphysics

"dismantle the (jack)master's house with his own tools"

(jazz = corporate device + leftist liberationist mythology)

end result: friendly, familiar but not same old mix

filter expectations - it's what's LEFT(ist)!


dance - OK!
feeling - OK!
deep thought - OKAY!

ultimately - commodity (relationship to capitalism?)

no escaping it big mess


(Terre's piano playing gets messy too!)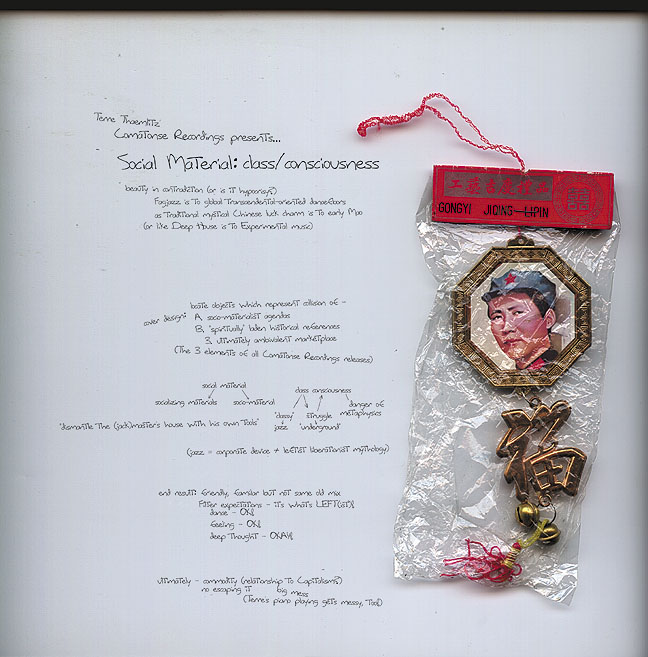 C.009 - Limited to 100 copies outside of Japan
Translucent red vinyl.
Produced by Terre Thaemlitz.
Recorded in 1999 at Meow (Kawasaki).
Design by Terre.
No fucking-sucking-licking-sticking without latex.
Clean your works with bleach and water.
Do not attempt using any part of this product as a safer sex device.
©2001 Comatonse Recordings & Sanriot, Japan