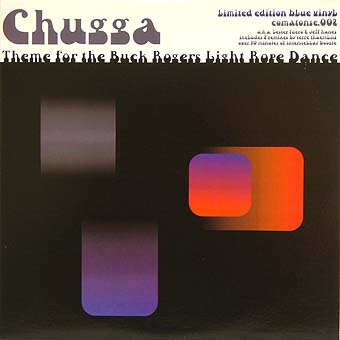 chugga theme for the buck rogers light rope dance
バック・ロジャーズの為のライトロープダンスのテーマ (1997)
Chugga: Theme for the Buck Rogers Light Rope Dance | 12" Vinyl EP | Released 1997 | C.002
Interstellar Speedskate (Remixed by Chugga) 6:25
Twikki Beats (Remixed by Chugga) 4:11
Interstellar Radio (Remixed by Chugga) 3:49
Deep Space Probe (Remixed by Terre Thaemlitz) 9:25
500 Year Orbit (Remixed by Terre Thaemlitz) 6:19
1997 Press Release
Chugga (a.k.a. Memphis based duo Lester Fuero and Jeff Hanes) presents a special blend of '70s minimalist disco with their interstellar single "Theme for the Buck Rogers Light Rope Dance."
Pressed on limited edition translucent blue vinyl, Comatonse.002 also features two very special mixes by Terre Thaemlitz that redefine the depths of deep house.
Chugga made their debut appearance on Shadow Records' Abstrakt Workshop 2 with their hip-hop-homage "Old School Fattie," and revealed a tender side of groovy with their love anthem "Slots (Love Theme from Las Vegas)" on Caipirinha Production's Synthetic Pleasures 2.
Each track features the home-spun wizardry of Jeff's L.F.U. (Low Frequency Unit), with bass so low the vibrations practically do the dancing for you. "When Jeff first played me the L.F.U. I just about shit my pants," laughs Lester, "That same sucker who flunked out of air-conditioner repair school with me had made the bomb!"
Chugga is Lester Fuero and Jeff Hanes.
US: Comatonse Recordings, 1997, C.002
Side A recorded by Chugga at Boogie and Goliath, Memphis
Side B recorded by Terre Thaemlitz at Meow (Spanish Harlem)
No fucking-sucking-licking-sticking without latex
Rinse your works with bleach and water
Do not attempt using any part of this product as a safer sex device